Dear JHBC Students,
This has been an amazing week with you. No doubt, God has worked among our hearts this week. In a day and age when there are so many distractions bidding for your time, I am so thankful that we were able to spend a few precious moments of our lives together.
Seeing each one of you hungry to hear the truth of God's word was such a privilege and joy in my life. I pray that you will always be hungry for truth and that you will strive to give God all the glory for your life.
This week we have talked about the greatness of God. I pray that you see him as bigger than you have ever seen him before, and worthy of your ENTIRE LIFE! I am giving you a link to the picture titled the "Pale Blue Dot" so that you can turn it into a background or print it out as a reminder of what God's perspective is on your life.
The Pale Blue Dot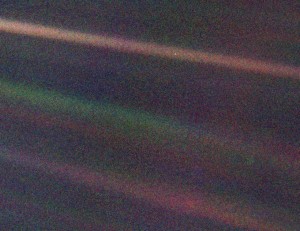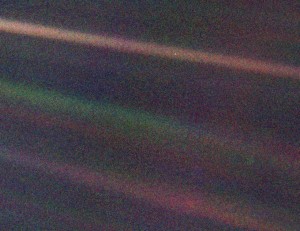 God's Glory and Hells Best Kept Secret
This week during the God's Glory message I told you my story of hearing a sermon called Hell's Best Kept Secret by my now good friend, Ray Comfort. This is the sermon that God used to show me I had believed a humanistic gospel that was all man-centered. At 23 years old I repented of my sin and trusted Christ alone as my savior. If you have never heard this powerful message, you need to hear it now. I have made the transcript as well as the video of this sermon available for you HERE, Hell's Best Kept Secret. If you would like to order the DVD message, you may do that HERE.
Continued Challenge
I pray these thoughts would continue to challenge you as you grow in your walk with Christ. I would love to be a continual encouragement in your life. The best way I know to do that is to live a life that glorifies God and then put it on display for the world to see. I would be honored if you would consider following me on Facebook or Twitter or Instagram. Feel free to engage in the conversations and help me witness to the atheists on my page. :-)
More Training
If you are serious about learning how to defend your faith, then the following DVD's are a must have for your education. They will strengthen both your faith and your intellect to better serve the others.
Creation Partner
If you are serious about helping people turn stumbling blocks into stepping stones then I encourage you to become a Creation Member where we can continue giving you great material and equipping you to share your faith! Creation Partners choose a gift of any amount per month in order to financially back what we are doing. As a thank you, we make all of our Creation Today Shows available to you for free.
Eric's Revival Video
This was a powerful video! Some of you will HAVE TO SEE THIS AGAIN! It is the video I made for you from preachers of old speaking truth into your life. I would recommend you watch this at least once a year to remind you of what God has done in your life.
Download from Vimeo by clicking the Download button and selecting the download tab under the video.

Men of the Church
I did not address the elephant in the room known as porn. 70% of men in church are loosing this battle that is paving the way for Satan to have the upper hand in our churches. It is time to conquer the sexual brokenness in our church. Please read this post that I wrote on the epidemic. Allow this series to help you and help others!
http://creationtoday.org/70-of-men-are-losing-this-battle/
Eric Hovind in the Conquer Series
How to Answer The Fool
We visited the website Proof That God Exists and walked through the intro to show the logic that everything must start with God. I would also encourage you to share this information with others. Sye has been very gracious and made the video available for free! You can download it for free from Creation Today HERE.
Last but not at all Least
I pray that your life would be one that glorifies God. I have talked to some of you who have wonderful home environments and others who have much less than desirable home environments. No matter where you are, you have the ability to be a light for Christ. Continue on that path of loving God and loving others.
Thanks for reading,