In 10 words or less, what wisdom would you share with a young person at a graduation crossroads?  Here are some of our favorites so far!
Education doesn't stop with graduation.

You are the books you read and the people you know.
No Scripture. No Food.
Decisions without prayer equals unnecessary risks.
Be prudent with Scripture; then take risks.
Courageous individuals can say, "I don't know."
Help someone every day.
Backup your hard drive.
No prayer; no power.
Stay close to people who matter most.
Success takes hard work and humility.
Say "Thank you" every day.
One of the extremely helpful tools we recommend to gain wisdom for graduate crossroads is College Prep America.  Flexible.  Competitive.  Affordable.  Strategic.  Empowering.  Fun education—wait—is that an oxymoron?  Not if you're talking fast-draw, gold medal awarding, no pencil or paper — College Prep America!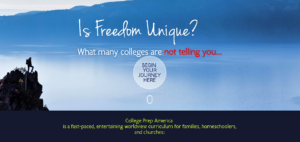 Investigate this unique educational approach to arming kids with the essential facts they need in order to develop THEIR OWN worldview.  This online curriculum leads to meaningful discussions on apologetics, politics, media discernment, cultural questions, and more.
HOW DOES IT WORK?
Watch a short video, receive your check mark, then take a 3-question challenge which really cements the concept just presented.  Each student has their own personalized account to be customized with their picture or avatar.  Gold medals are awarded for three correct answers, silver for two, and bronze for one.

As more videos are watched and more medals are earned, students' mastery bars rise, allowing their success to motivate them.  At the end of each year, College Prep America awards a total of over $20,000 in scholarships to multiple winning students who complete all the videos.
Over a half million dollars has been invested in this curriculum including testing with students, researching the curriculum, and creating videos that IMPACT on every level!
Currently there are 77 short (3 minute average) videos to be viewed with new material being created.  This is an approximate 4 to 5 hour commitment that can be completed in 3 minute segments over the course of a family's $47 one-year, tax deductible, 5-person subscription.  That's only $9.40 per student!
Imparting godly wisdom for making the right decisions at any of life's crossroads, College Prep America enables young people to understand the big picture, the culture-challenge they face, and what's at stake.  It instills Scriptural discernment to truly separate opinion from fact, fiction from truth, imprudence from wisdom.
In order to not only survive, but thrive in today's Christianity-hostile culture, our young people need to know WHAT they truly believe and WHY they believe it.  If you are wondering what to give your graduate, consider giving them wisdom that will last for eternity.  Buy them a subscription to College Prep America which on-the-go young people can do on their phones in 3-minute sessions!  Impart WISDOM, not only to your graduate but to the next generation!