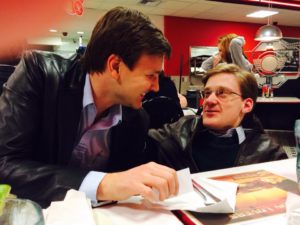 Creation Today shines the spotlight on stars David and Murry Rives—two men who literally live in the creation apologetics battlefield, having given their entire lives to its study and defense.
Knowing the Creator left a pattern of His fingerprints across each corner of the universe, in every crevice of the earth, and on every cell of our bodies, David and Murry Rives have devoted their entire lives to discovering and sharing His handiwork. While David usually stands in the forefront speaking, his brother, Murry assists with everything from social media, sound, and editing; to emails, phone calls, and product distribution.
David is amazing in front of the camera lense, but behind the lense as well. Filmed with observatory-class telescopes, David's breathtaking astrophotography has been featured in textbooks, scientific literature, and live events around the world. Just as the heavens declare the glory of God, David proclaims the manifest presence of God as seen in the universe, as well as in the lives of individuals who know their Creator!
David's documented field experience in astronomy, paleontology, and archaeology affords him a level of scientific expertise that few share. This command of knowledge combined with his powerful, inspirational, easy-to-understand delivery make his lectures on Bible history and science both academic and fun for all ages. Though there are a plethora of video projects the David Rives Ministries has produced, this month as we spotlight the field of astronomy, we hope you will investigate their Secrets of the Cosmos Trilogy Set.  Take a trip through the universe with David and Dr. Danny Faulkner answering questions about distant starlight, E.T. life in space, and what craters throughout the solar system tell us.
David's weekly TV show "Creation in the 21st Century" airs globally to millions on TBN. His pen, too, stays busy as a weekly news columnist on science and the Bible, and author of the books, Wonders Without Number and Bible Knows Best. As featured on the History Channel and heard on talk radio, follow David and Murry's exciting lives and world travels on their ministries' active Facebook page http://facebook.com/DavidRivesMinistries
Whether on a documentary shoot at the Grand Canyon, chasing solar eclipses in the Pacific Northwest, rappelling on the cliffs of Qumran, Israel, or digging up dinosaurs and flood evidences in the earth's surface, learning about David and Murry's latest adventures keep audiences on the edge of their seats! While David and Murry's work takes them to some of the largest Christian church audiences in the country, they also enjoy sharing with individuals—even skeptics.
As though the heavy ministry schedule were not enough, as singer/songwriter, David has written and recorded Top-40 radio hits. This creativity allows him to approach each project he tackles with a unique perspective.
Undeterred by the many challenges which apologists face amidst an often hostile culture, David and Murry continue serving their Lord. Check out a few of their many accomplishments.
2014

award-winning

DVD "Refracted Glory," exploring the amazing world of hummingbirds and their design

230 short video features on science and the Bible

2017

award-winning

documentary "Echoes of the Jurassic," 

cataloging 

the discovery of soft-tissue in dinosaur bones.

80 DVDs in the "Wonders Without Number Video Series" and the acclaimed "Bible Knows Best" documentary series, based on his most requested presentations.

150 episodes of "Creation in the 21st Century"

Composer and recording artist of two musical albums, "Fall Down" and "Forever"

Founder and Director of the first science TV network, "Genesis Science Network" centered around Christian and Biblical values
Contact David and Murry at [email protected] or call 931.212.7990 to learn more about their ministry outreach and how you can best encourage and support their labors for eternity! From Creation Today, we say THANK YOU to the entire Rives Family!

---
The Creation Ministry Spotlight is a forum to recognize and thank members
of the Creation Network who work to support and further the Creation message.
Check out more ministries at: www.CreationNetwork.org