This month's spotlight is on Don Landis, President of Jackson Hole Bible College in Jackson Hole, Wyoming.
In a world where the growing rule of thumb is "every man decides what is right based on what is right in his own eyes," Jackson Hole Bible College Co-Founder, Don Landis stands in stark contrast. He devotes his life to training people in an 180°, exact opposite direction for establishing a foundation on which to base one's morals and decisions.
Like many Christian leaders, Don Landis wears numerous hats, yet they all contribute to his life's commitment of teaching others the importance of building their lives on the Word of God.
President of Jackson Hole Bible College, which started in 1997, and Pastor of Community Bible Church for 44 years, Don is also the founding Chairman of the Board of Directors for Answers in Genesis and the Creation Museum. Throughout the year Don teaches students at JHBC and Rocky Mountain Lodge. Speaking at special events for Answers in Genesis, he has also written articles for Answers Magazine, and edited several chapters in books published by AiG.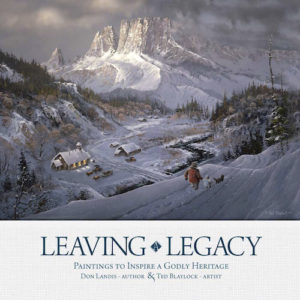 Don is the general editor for the bestselling books, Genius of Ancient Man and Secrets of Ancient Man, published by Master Books and has recently released  Leaving a Legacy, a book on the importance of impacting the culture for Jesus Christ. He brings wisdom and insight from the Word of God in a practical, challenging, and insightful way. He and his wife Beverly live in Jackson Hole where they enjoy spending much of their time with their seven grand children and one great-grandchild.
The JHBC one-year Bible degree focuses entirely on how to live a life grounded in Biblical principles. The two-semester modular program gives students a clear understanding of God's eternal plan throughout human history, with a literal, historical, grammatical, and contextual interpretation of Scripture from Genesis to Revelation.
If you are a graduating senior, we urge you to prayerfully consider Jackson Hole Bible College as the first destination in the next chapter of your life. Testimonies abound as to the lifetime investment this single year could make in your future. Creation Today's own president, Eric Hovind, was a member of the inaugural graduating class and credits JHBC for the tremendous Godly influence it had on his life. Learn more about this opportunity at the Jackson Hole Bible College Website.

Creation Today salutes Don and Beverly Landis for the unique educational opportunity their dedication has afforded young people during the past 20 years. You can support President Landis and his highly effective organization's efforts!
Commit

to monthly support.

Register

for the 2018 Fall Semester.

Fund a Scholarship.

Donate a week of labor during a Summer Work Week.

Purchase

Leaving a Legacy and share its message of impacting the culture for Christ.

Pray for the efforts of JHBC to equip and educate the next generation of Christian Leaders for Christ.
Thank you, Don and Beverly Landis and the Jackson Hole Bible College Team!
Jackson Hole Bible College
[email protected]
www.jhbc.edu
---
The Creation Ministry Spotlight is a forum to recognize and thank members
of the Creation Network who work to support and further the Creation message.
Check out more ministries at: www.CreationNetwork.org