Random Acts of Kindness Week – February 16 – 23
The State of the Union could use some KINDNESS, which affects health, happiness, hearts, and the heavenly ever after! In 2017, a global  phenomenon called the "Random Acts of Kindness Week" began. Wow! Could our world, could our workplace, could our homes use a dose of this? The week long event is here, but what's in it for the long haul?
Well, if just being nice isn't enough motivation for you, let's first look at what the Random Acts of Kindness Foundation's scientific research revealed about physical and emotional gains produced with kindness.
Kindness Produces Physical and Emotional Gains
Kindness Fuels Energy and Esteem
Kindness produces serotonin which generates that feeling of calmness and even helps heal wounds, according to a Berkeley study. The same study reported that in addition to greater feelings of calmness and enhanced self-esteem, nearly 50% of participants noted feeling stronger and having more energy after helping others.
Kindness Makes You Happier
A Harvard Study showed that those who were altruistic and gaveaway money were, overall, the happiest people. (Clearly, Harvard researchers have not met the winners of the Super Bowl yet. )
Kindness Is Good for Your Heart
The Random Acts of Kindness Foundation reported that witnessing acts of kindness produces oxytocin, occasionally referred to as the 'love hormone' which aids in lowering blood pressure and improving our overall heart-health. We've heard it said that love hurts. But scientific data validates the opposite is true!
Kindness Helps You Live Longer
Christine Carter, author of Raising Happiness; In Pursuit of Joyful Kids and Happier Parents, writes: 
"People 55 and older who volunteer for two or more organizations have an impressive 44 percent lower likelihood of dying early, and that's after sifting out every other contributing factor, including physical health, exercise, gender, habits like smoking, marital status and many more. This is a stronger effect than exercising four times a week or going to church."
Finally, a guilt-free way to skip exercising or hitting the gym!
Kindness Decreases Lots of Bad Stuff
Studies have shown that developing a habit of kindness reduces pain, stress, anxiety, depression, and blood pressure. Chemistry plays a role once again. (No, not the boy — girl kind of chemistry). People who practice kindness as a habit have 23% less cortisol (the stress hormone) and more of the chemical nitric oxide, which dilates blood vessels, thus lowering blood pressure.
Kindness Reaps Spiritual Obedience 
That sounds pretty good, but let's up the ante! The Bible commands us to be kind.
The admonishment of the never-changing Word of God tells us in Ephesians 4:32:
"And be ye kind one to another, tenderhearted, forgiving one another, even as God for Christ's sake hath forgiven you."
Peter reiterates the importance of kindness in these character traits that demonstrate to others we know the Lord Jesus.
2 Peter 1:5-9  "But also for this very reason, giving all diligence, add to your faith virtue, to virtue knowledge, to knowledge self-control, to self-control perseverance, to perseverance godliness, to godliness brotherly kindness, and to brotherly kindness love. For if these things are yours and abound, you will be neither barren nor unfruitful in the knowledge of our Lord Jesus Christ.  For he who lacks these things is shortsighted, even to blindness, and has forgotten that he was cleansed from his old sins."
Peter warns that if we have no desire to show kindness, we have forgotten where we came from as wicked sinners in need of a Savior.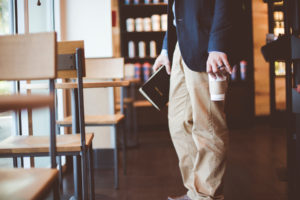 Kindness Impacts Eternity!
Here's a great way to show kindness. Buy someone a cup of coffee and give them a WhyIBoughtYourCoffee.com card. This website shares the Gospel in a short story read. Sharing Jesus' love for others just couldn't be any easier! And you are obeying the commands of the Great Commission found in Matthew 28:19-20!
Let's admonish one another to demonstrate some acts of kindness this week! Yes, be kind for the physical and emotional gains, but more importantly, let's do acts of kindness to impact eternity! How about buying someone a cup of coffee!