This month's "Spotlight" is on Jayson Payne, Curator and Director of the Creation & Earth History Museum in Santee, California.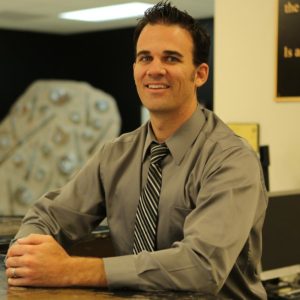 Wearing many hats as Director of Life & Light Ministries, Jayson Payne oversees three 501(c)(3) entities: Creation & Earth History Museum, Israel Restoration Ministries, and Friendship with God Fellowship Church's Radio Broadcasts, all in Santee, California.
Bringing 15+ years of ministry and business experience to his demanding roles, Payne focuses on spreading the Biblical account of science and history by actively engaging in many community outreach events. Leading his team of curators, scientists, and outreach professionals, he remains committed to sharing the truth of God's Word beginning in Genesis.
Payne received his Bachelor's in Graphic Communication and Business from Point Loma Nazarene University and is currently enrolled in the Master's program at Southern CA Seminary. He holds Board Leadership positions in several organizations including the Fellowship Christian Athletes, Educate for Life, and the International Association of Creation. Native San Diegan Jayson has been married to his best friend, Erika, for 14 years, and they are blessed to be parents of two energetic boys.
ANNUAL AUCTION AND SPECIAL EVENTS
Desiring that believers will be encouraged and equipped with real answers for today's questions and for lives to be changed with Gospel, monthly financial support is needed. In an effort to raise awareness and needed funding, Jayson's team is planning their 4th Annual "Taste of Creation & Silent Auction" Museum Fundraiser which is scheduled for Saturday, July 14, 2018 at the Creation & Earth History Museum. Registered guests will enjoy a walk through history, experience some amazing exhibit-themed food, and hear from Museum President, Tom Cantor. Funds will be used to enhance exhibit displays, provide essential community educational outreach programs, and offset the museum's annual operating expenses.


GRAND CANYON TOUR
Join Jayson Payne, Russ Miller, and Eric Hovind on the trip of a lifetime to the Grand Canyon on June 7-10! You will return renewed and encouraged by the awesomeness of our Creator!
REGISTER: creationtoday.org/grandcanyon
GET INVOLVED!
Creation Today salutes this amazing Creation organization. Here's how you can join Jayson and his ministry's efforts:
Thank you, Jayson and the Life & Light Ministries' team!
CONTACT INFORMATION
Creation and Earth History Museum
10946 Woodside Ave. N
Santee, CA 92071
www.creationsd.org
---
The Creation Ministry Spotlight is a forum to recognize and thank members
of the Creation Network who work to support and further the Creation message. www.CreationNetwork.org