As the month of October draws to a close, Protestant Churches around the globe are eagerly preparing for the quincentennial celebration of the Reformation. Five hundred years ago, everything changed when a young monk named Martin Luther nailed his 95 Theses to the door of the castle church in Wittenburg, Germany. But what was it that prompted the Reformation?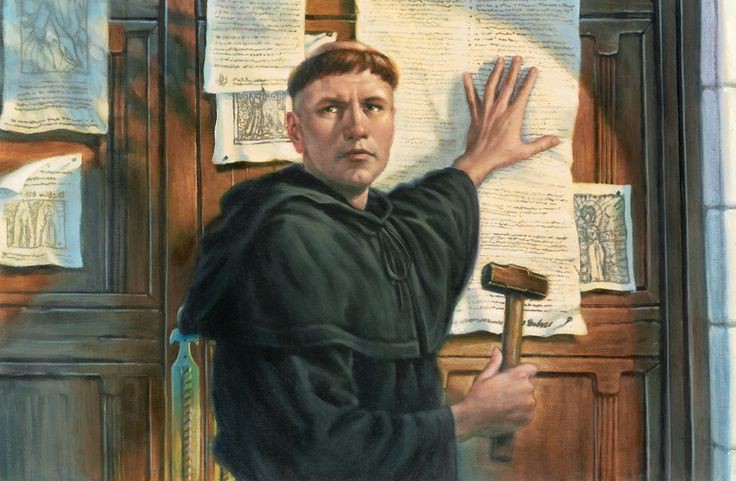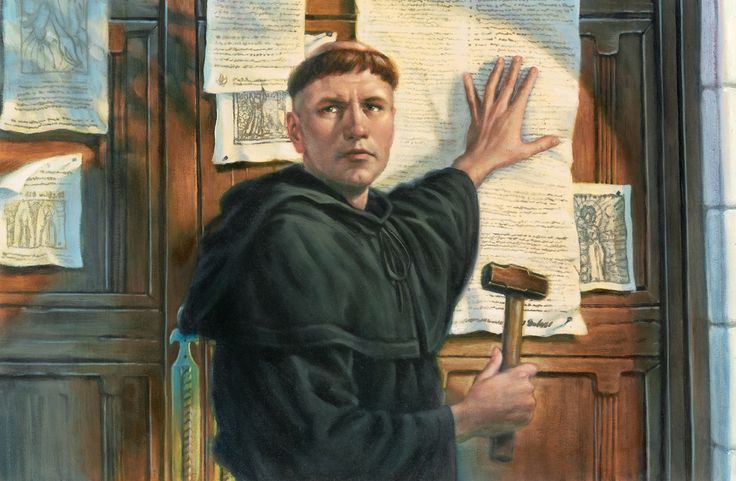 During Luther's era of the 16th century, people tried to attain salvation in a multitude of ways like praying to Mary and the Saints, pilgrimages to Rome, and paying for one's sins through good works. In an attempt to raise money for the building of St. Peter's cathedral in Rome, the Catholic Church had begun selling salvation — literally! To those who purchased a special certificate, called an indulgence, Rome promised freedom from suffering in "purgatory" for ALL sins: past, present, and future.
Like so many others in his day, Luther had been immersed in the "earn your own salvation" movement. On August 17, 1505, he had entered the Augustinian monastery at Erfurt, "to save [his] soul." He was a model monk. He devoted himself to fasting, long hours in prayer, pilgrimages, and frequent confession. Sometimes he confessed for hours at a time! Eventually his confessor told him not to come back until he had committed a sin worth confessing!
Subjecting his body to physical punishment caused Luther to permanently injure his health, all to attain righteousness and heaven.  He went without food for days, stayed awake all night to say his prayers, and performed acts of penance for hours. He even laid out naked in the cold snow of Germany as an act of trying to find forgiveness and peace with God, all to no avail.
Desperately, Luther even committed the act of self-flagellation, whipping himself until the blood flowed down his body. Yet nothing brought peace or forgiveness to his troubled soul. He would later remark in a letter to the Duke of Saxony, "If ever a monk could obtain heaven by his monkish works, I should certainly have been entitled to it.  Of this all the friars who have known me can testify.  If it had continued much longer, I should have carried my mortification even to death…" (J.H. Merle D'Aubigne, "The Life and Times of Martin Luther") Yet the doors of paradise still seemed closed to him. He had no peace with God. No forgiveness of sins. No justification.
What was it that changed his life and sparked a reformation which ultimately changed the course of Christendom? It was Sola Fide: Faith alone!
For I am not ashamed of the gospel of Christ,
for it is the power of God to salvation for everyone who believes,
for the Jew first and also for the Greek.
For in it the righteousness of God is revealed from faith to faith;
as it is written, "The just shall live by faith." –Romans 1:16-17
While contemplating this passage Luther felt as if a bolt of lightning struck his heart. His soul, long imprisoned in a dark dungeon, was suddenly released into beautiful daylight, where he could inhale the fresh, invigorating, exhilarating air. The peace of God, which transcends all understanding, now filled his heart and mind.
"Here I felt that I was altogether born again and had
entered paradise itself through open gates." –Martin Luther
In the Scriptures, Luther discovered a Gospel which delivers us: from being spiritually lost and perishing (Matthew 18:11), from the wrath of God (Romans 5:9), from spiritual ignorance (Hosea 4:6; 2 Thessalonians 1:8), from the darkness of false religion (Colossians 1:13; 1 Peter 2:9), and from the ultimate penalty of our sin: eternal punishment in the lake of fire. But how do we receive it? By faith alone!
"We start our journey into eternal life with saving faith,
it continues with sanctifying faith,
and one day will be completed in glorifying faith" –Woodrow Kroll
No matter what you're going through, the Gospel is more powerful. No matter how much you have sinned, the Gospel is greater. No matter how much you'll fail in the future, the Gospel is stronger. No matter how much or little time you have left, no matter what the devil throws in your face, or what temptations come your way, the Gospel is the power of God unto salvation for everyone who believes.
Just like Martin Luther 500 years ago, the gates of Paradise are opened to us by faith alone!
Disclosure: This blog post is based on a sermon from Pastor Joshua Wallnofer. ("Sola Fide and the Doors of Paradise", September 30, 2017)
Discover how Paradise lost can be Paradise gained!