The statistics are staggering! Children raised in Christian homes, attending church faithfully all their lives, are quickly abandoning the faith after just a short stint in secular universities. Why? Are they not being taught what to believe? How can parents better equip their children to defend the faith? What tools can we offer to help them engage the culture with truth?
Why Should We Teach Apologetics to Our Children?
Before our children can read and write, they have already begun to be inundated with secular humanism. From the books they read, the movies they watch, and the advice they receive from family and friends, children learn to follow their hearts, believe in themselves, and to seek self-fulfillment apart from God. Human happiness is set up as the greatest of virtues, while moral absolutes are treated like a monster from our past which must be rooted out and destroyed. So how do we prepare them to defend their faith in a hostile world?
How Do We Teach Apologetics to Our Children?
As parents, we need to be intentional with truth. It isn't enough to send our children to Sunday School or Youth Group and expect them to be prepared to defend their faith. We should speak to them of God's truth at every opportunity, as stated in Deuteronomy.
"And these words, which I command thee this day, shall be in thine heart: And thou shalt teach them diligently unto thy children, and shalt talk of them when thou sittest in thine house, and when thou walkest by the way, and when thou liest down, and when thou risest up." (Deuteronomy 6:6-7)
By conversing with our children on the principles found in God's Word, and exploring the Creation He made together, we teach our children to memorize truth, wrestle with truth, and eventually share that truth with others. Through knowledge, understanding, and wisdom our children don't just learn what to believe, but why they believe it.
What Will Help Us Teach Apologetics to Our Children?
Although there are a plethora of Christian resources for children, very few get to the heart of why we believe what we believe. Fewer still teach children to respectfully question what they have been taught as they seek to discover the truth for themselves so they can then articulate it to others. Here are just a few of our favorite resources for children to help them grow in knowledge, understanding, and wisdom.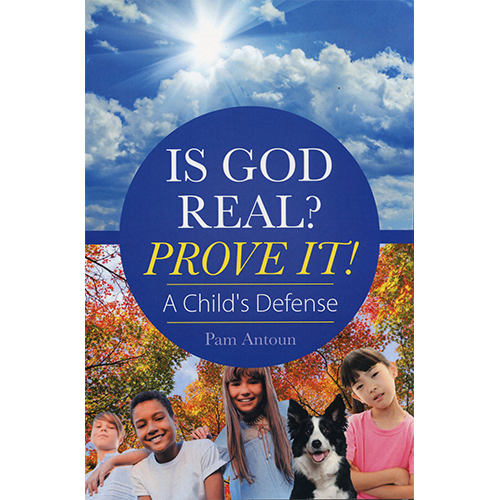 Is God Real? Prove It!
Pam Antoun
How do you know God is real? Is it just a mere feeling or a hope? Or is there something more you can point to that proves you are fearfully and wonderfully made in the image of a loving and majestic God in heaven?
In Is God Real? Prove It!, two young Christian children, Amanda and Josiah, are confronted with this very challenge. Can they stand their ground without shaking their faith in God? Even more, can they share their faith and help their friends embrace the good news?
"A fast-paced read that will take children of all ages, on a fun and exciting path on how to discuss the truth about who God is. The author offers a glossary, pictures, diagrams, and questions children will be able to understand. The characters in the book are relatable and lovable which keeps the reader turning the pages. After reading this book to my grandchildren, they had a better understanding of the Trinity and what separates them from God." – Linda
10 Minute Bible Journey
Dale Mason
A fast-paced, apologetics-infused synopsis of God's Word!
Discover 52 accounts that weave the chronological, gospel-centered storyline of the most strategic and amazing events from Creation to Heaven. Filled with vibrant, full-color images, an illustrated fold-out timeline, and exciting "faith facts" that confirm the Bible is true, this book is designed to help Christians of all ages spring to a new level in their understanding of God's Word and their relationship with Jesus Christ.
"We are using the "10 Minute Bible Journey" for devotions each morning and our whole family is loving it!!! While the author recounts familiar Bible stories with pictures for the little guys, it is replete with apologetics so the older ones learn a lot! We have awesome discussions after each chapter." ~MJ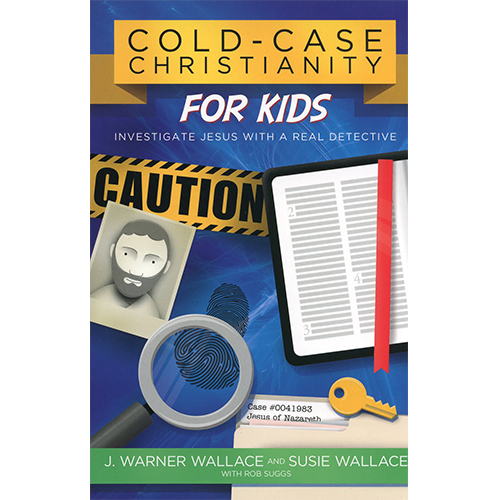 Cold Case Christianity for Kids
J. Warner Wallace
Investigate Jesus with a REAL detective! Between the ages of 8 and 12, kids often start to wonder if Christianity is true. In Cold-Case Christianity for Kids, Detective J. Warner Wallace draws readers into the thrill of high-stakes investigation by showing them how to think rather than telling them what to think.
J. Warner Wallace is a cold case homicide detective, a missions leader, and a church planter. A vocal atheist for many years, Wallace is now an apologist for Christianity with a master's degree in theology.
"But sanctify the Lord God in your hearts: and be ready always to give an answer to every man that asketh you a reason of the hope that is in you with meekness and fear." -1 Peter 3:15
---
FROM THE CREATION STORE