The legacy of heroes is the memory of a great name
and the inheritance of a great example. —Benjamin Disraeli
America's history is filled with a long list of heroes who have shown extraordinary courage, even giving their lives to secure the freedoms our nation enjoys, freedoms we often take for granted.  We can actually go all the way back to the Mayflower, that small band of men and women who chose to risk everything for freedom to worship God.  Many of them did pay the ultimate sacrifice in an effort to secure religious liberty for their families.
The brave die never, though they sleep in dust,
their courage nerves a thousand living men." —Minot Savage
That sacrifice was only the beginning of the sorrows to both establish and to secure our freedom.  Looking at our nation's losses in its 10 deadliest wars gives us a small peek into the tremendous debt we owe those who have gone on before us.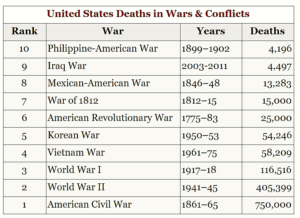 After the Civil War, a custom began of decorating the graves of these silenced warriors. On the last Monday of May, our nation continues this demonstration of thankfulness and patriotism.  Originally known as Decoration Day, we now call the national holiday Memorial Day—a fitting title.
Here in Pensacola, we are privileged to display a miniature version of the Vietnam Wall, a Memorial in Washington, DC.  On its sides are engraved the names of its 58,209 casualties.  I haven't met any of these people because I was  born in 1978, three years after The Vietnam War ended.  But I have met a son of one of these heroes, Mr. Clyde Hackworth, whose father's name, Charles Hackworth glistens on this wall.  Kind of gives these names a new meaning after you shake someone's hand to personally thank them for their sacrifice.
I am thankful that we have Memorial Day to focus on expressing gratitude to the families who have lost a loved one in the service of our country.  To the Hackworth Family and millions of others, "Thank you for the price you paid to secure my freedom here on earth."
As I contemplate the sacrifice of our veterans, I am also reminded of the price our Creator God paid for our eternal freedom.  One day, I will see the nail-pierced hand of His Son, Jesus Christ!  God our Father has shown us true love and sacrifice, and taught us what real freedom is.  You may be privileged to live in a free country, but not really enjoy freedom.  It may be in the form of an abusive relationship, depression, unforgiveness, pain and heartache, suffering; a bottle of pills, liquor, or a host of other things that enslave us, that rob us of living a life of joy and fellowship with the One who loves us unconditionally.
God has fought the battle for us and won.  He can give us true freedom!  But just like our nation, freedom doesn't mean the end of wars.  So for the Christian who is set free by trusting Jesus Christ and Him alone, it doesn't mean that the warfare ends.
Whether we acknowledge it or not, whether we are even aware of it or not, we are all involved in warfare every day.  Ephesians 6:12 reminds us that our ultimate warfare isn't between flesh and blood, but between principalities, against powers, against the rulers of the darkness of this world, against spiritual wickedness in high places.
I wish I could tell you that our lives here on earth were not going to have anymore bloodshed.  But I can't.  The Bible says that there will be wars and rumors of wars until the Lord comes back for us—both fleshly ones and spiritual ones.
We owe such a debt of gratitude to the families of the names on this Vietnam Memorial Wall, as well as thousands more, who have given their lives over the ages, defending our freedoms.  As we remember them, let's also thank God our Creator who gave His son Jesus as the ultimate sacrifice.  Jesus laid down His life to secure a freedom that transcends any earthly freedom. Through His death we gain spiritual victory over sin, death, and hell.  Memorial Day gives us a chance to praise our Lord for the price He paid, and the triumph He secured.
This Memorial Day, thank a soldier for their sacrifice and thank God our Father for His.