I had a great time at the grand opening of the Ark Encounter over the past few days. We arrived on Wednesday at 2 pm and began our behind the scenes tour with Tim Chaffey, the content manager for the entire 1.8 million cubic feet of space in the massive structure.
Awe-Inspiring would be an understatement. You just can't imagine how amazing the Ark Encounter is and I don't think any picture will ever do it justice. (Although this picture from just before it opened was amazing!)

We only had 3 hours and we could have been there for an entire day. I am so excited about all the exhibits that are already on display, especially the Bible exhibit, and can't wait to experience all the exhibits that are still to come.
By 5:00 pm we had to head out so that we could make it to the Freethinkers meeting that night. With a special guest list including names like Dan Barker, co-president of the Freedom From Religion Foundation, David Silverman, President of the American Atheists, and Aron Ra the head of the Texas chapter of the American Atheists, I thought for sure there was going to be a lot of people in attendance. When we arrived at Newport on the Levee we had to walk around and asked 5 different people where this meeting was being held. Since nobody knew about it we continued to wander around until we found the room where they were meeting. We sat for the next 2 hours as Jim Helton, president of the Tri-State Freethinkers shared the plans for the group to protest the opening of the Ark Encounter.
It was a late night on Wednesday as we left the freethinkers meeting and headed to Walmart to pick up the Gatorade, cookies and chips to go along with the Chick-fil-A sandwiches that we were going to be serving the protesters the next day. As we stood in line at the checkout I thought to myself, the atheists are going to invite us to all of their protests if we keep treating them like this!
Thursday morning, the seventh day of the seventh month, we headed down to the Ark Encounter to see how the protest was shaping up. We arrived a little after 9:00 AM to see two pop-up tents and a handful of people setting up. We pulled into a parking spot and started to unload our gear for the day.
I had made about 30 signs for the protest (view them HERE) and as I was sorting through them Tony Arnold, PR Director for the Tri-State Freethinkers approached our vehicle and began to explain how the day was going to work. He told our crew that we were going to be on the other side of the off-ramp and could come over to their side upon request to interview a spokesperson, however, we were not to engage the protesters one on one. Rather confused at this I responded and let Tony know that we were fine just where we were. We were on public land and had every right to be there as they did.
The protest of the protest went perfectly. The only problem, the leadership told all the protesters not to have any conversations with us. We got out our ice chest full of Gatorade and let people know that it was available to them for free. We had red Gatorade, orange Gatorade, yellow Gatorade, green Gatorade, blue Gatorade and even purple Gatorade. Every color of the rainbow was represented just to remind them of the promise that God gave to Noah that He would never again destroy the world with a flood.


That is when we hit snag number two. The leadership of the Freethinkers told their congregation not to drink any of the "Creationist Gatorade." I was stunned at the lack of gratitude toward our gesture of love for them.


One of the claims made by the group of freethinking protesters was that the Ark Encounter was a clear violation of church and state. Thankfully, for the good of the freethinkers, we flew Jake MacAulay up to join us at the protest. Jake teaches the course "Institute on the Constitution" all across the United States and is very well versed in the foundation of our country. I stepped onto our step stool and announced that Jake had been flown in from Raleigh North Carolina just to protest the protest by shedding light on the misinformation they were presenting on their signs. We would welcome discussions with any and all. How many atheists took us up on the offer to talk with Jake? Zero, None, Nada. Once again I found myself stunned. Here a group of people who claim to be "rational" and focus on "reason" did not want to have a rational and reasonable conversation with us. Could this be what Peter was referring to when he said that people in the last days were going to be "willingly ignorant."? There was a reporter that was at least interested in hearing what Jake had to say! Here is a video from Jakes FaceBook page of him explaining the 1st amendment. 
I had arranged for the Chick-fil-A to arrive at 11:30, just in time for the protesters who were getting a little "hangery" to satisfy their hunger with the best chicken sandwich known to man. They were delivered by non other than Tim Chaffey, the content manager for the Ark Encounter. He and some friends set up a table, put out the Chick-fil-A sandwiches and then we made the announcement from on top of the step stool. "Dear freethinkers, we have food available to you on the tables. Please help yourselves to free Chick-fil-A sandwiches."
"We don't want your Chick-fil-A sandwiches." came the reply. I was once again shocked. Then a chant started, "Sexist, racist, anti-gay, we won't eat your Chick-fil-A. Sexist, racist, anti-gay, we won't eat your Chick-fil-A." This was repeated for some time while a sign was posted near our table reminding the Freethinkers to think twice before eating a chicken sandwich.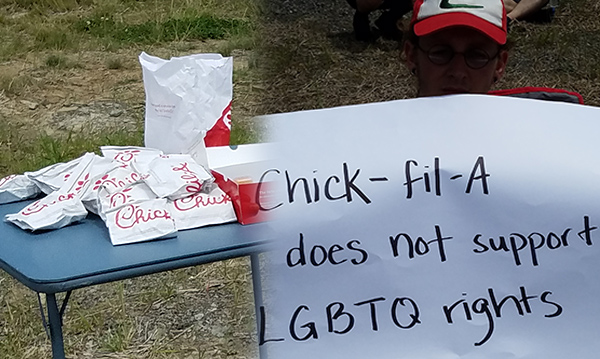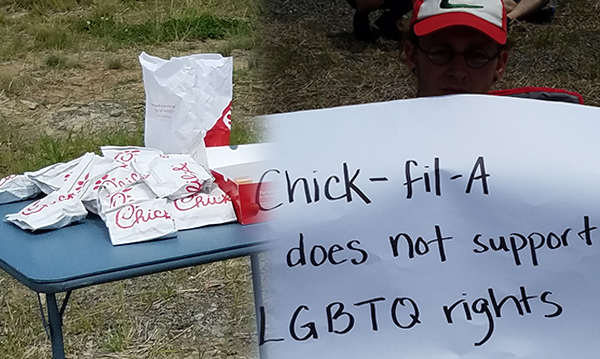 They didn't want to eat a Chick-fil-A sandwich because the owner of the company has a different perspective on marriage than they do. Talk about intolerance! The sandwich was paid for by Christians. It was a free gift. They were not supporting Chick-fil-A by eating the food, but they rejected the gift simply because they didn't like the source of the gift. Ironic is a word that comes to mind. These are the same people rejecting the free gift of salvation offered by Jesus Christ.
Since Tim Chaffey was there I then told the audience that we had someone who could answer their questions about what was inside of the Ark. If they had any problems with Noah building a vessel of this size, or with the number of animals on the Ark, this was the guy you wanted to ask. David Silverman, president of the American Agnostics was sitting just a few feet away and began to mock. I invited the "freethinkers" over to talk with Tim, but no one seemed to budge and David Silverman even walked away. Again I told them who was standing before them and that he was available to answer any questions they had about the Ark. Still no one moved closer. Finally a couple of individuals came over and ended up enjoying over an hour long friendly discussion with Tim. They were shocked to learn that they were being misled on several of the issues they were there protesting. I sure wish the others freethinking protesters could have been there to hear all the truth presented.
Then came the photo perfect showdown. As I was trying to engage the protesters in conversations, they began singing a song written to the tune of Old McDonald. As they sang the cameras gathered around and we waited patiently for them to finish. Their choir director led them in two stanzas.
"Ark Encounter is a sham,
E-I-E-I-O
With a tax-break here and a tax-break there,
Here a break, there a break, everywhere a break break,
Ark Encounter is a sham,
E-I-E-I-O"
Then they began to chant, "Gays, Atheists, Catholics, Jews, we're not welcome on this cruise."
Jake MacAulay and I were standing among the freethinkers when Jake asked how many of the freethinkers would like to take a tour of the new Ark Encounter. Scoffs came back as the reply. Then Jake said, I will pay for any of you who want to go into the Ark Encounter today. Your tour will be absolutely free. Once again the offer of the free gift to them was met with ridicule. "Freethinker" is a rather ironic name for these folks who are so willing to follow the crowd.
David Silverman of the American Atheists made his way over to where we were as the crowd began to sing to us, "Na-na-na-na, na-na-na-na, Hey-hey-hey, Goodbye." Then he got right in my face and began asking a question about God. "Did God know that Adam was going to eat off the tree of knowledge of good and evil before He made them? Did he? Answer the question Eric, did He?"


That is when the cameras snapped their pictures for the cover story. "Secular and Christian worlds collide at Ark Park" read one headline with a picture of myself and David Silverman standing face to face. Truth be told, I didn't know what to do at that point. My heart wanted to just reach out and hug him. Here was a man promoting false information and teaching false information to many people. I was there trying to help. The picture actually shows me holding my credit card out while I was saying, "I will pay for you to go to the Ark with me." David and the rest of the Atheists declined my invitation at the time.

Truth is, the protest of the protest took place not with me standing in front of David Silverman and not with the many signs posted around the 154 exit of I-75. The real protest of the protest took place as people like Grace Mally and friends sat in the dirt listening and talking for hours with people one on one. Tony Ramsek with Answers in Genesis had some amazing conversations while lovingly talking to the protesters. The Henry family had come from Orlando and Frank and Steve had also joined us to simply be a light in the darkness. It was these one on one discussions that really made my day!
I want to give a special thanks to the following people who joined us in Protesting the Protest by being there to serve the freethinkers.
Clint Smith

Victor Brewer

Nathan Hughes

Tim Chaffey

Tony Ramsek

Harold Mally

Grace Mally

Sarah Mally

Haley Skrnich

Nickie Biegler

Henry Family

Daniel Stibral

Sarah Stibral

K. Marie Adams

Frank Zitzman

Kent Andrew H

ovind

Scott Weckerly
Once the camera crews were gone and the tone of the day turned to calm conversations I once again began asking if some of the protesters would like to take a tour of the Ark with me. At first one said yes, then another, then a group of 4, then a group of three more. By the time we were ready to leave, about a third of the protesters decided to join us on a tour of the very thing they were protesting. This was by far the highlight of my day! Among the protesters that enjoyed a free tour of the Ark were David Smalley, producer of Dogma Debate, and Pamela Whissel, editor-in-chief of American Atheist magazine. Tim Chaffey lead us on the tour and answered question after question for the group. Some of the questions seemed absurd, like "Why didn't you guys replicate the stench that would be on the ark with all the animals?" Tim handled even those questions with grace as he reminded them that the Ark Encounter was designed to be a themed attraction with a family friendly environment. He wrote about giving the atheists a tour of the Ark in a blog post where he addresses many of the questions and answers that were given. 
This was not the end, but just the begining of the much needed ministry to the Freethinkers that will continue. The second day of the Ark opening Ken Ham was able to take Bill Nye on a two hour tour of the Ark. Ken wrote about his second debate with Mr. Nye on his FaceBook page saying,
The second unscheduled "debate" with Bill Nye "the Science Guy" occurred today in front of hundreds of people at the Ark Encounter in Williamstown, Kentucky.
That same day, Tony Ramsek was able to take Aron Ra and Tri-state Freethinkers President Jim Helton along with their wives and children behind the scenes of the Ark for lunch and was able to share the gospel with them for about two hours! Praise God!
While we didn't have any of the freethinkers trust in Christ as Savior that day, we pray that seeds of doubt in their skepticism and freethinking spirit of questioning "everything" were planted. God really has given us the truth in Scripture and we can trust it because we can trust Him!
I want to say "Thank You" to Ken Ham for building such an amazing structure which brings glory to God! It was such an honor to lead people through this world class facility and share with them the side of God that they often refuse to see, the loving side that provided a way of escape from certain judgment.If you have never entered into the door of salvation, I want to invite you today to trust in Christ as your Savior. He is the only way to be saved from the coming judgement and it has been provided at a great sacrifice that you could not repay with an eternity of service. I wrote an article for those of you who are interested in this free gift offered by God and invite you to read it today to learn more about walking through the only Door and trusting in Christ.
Thank you so much to all of you who supported us to go Protest this Protest. Our prayer is that we showed the love of Christ in our efforts to speak the truth to the skeptics of our day. May God continue to be glorified in all that we do.
For God's Glory,